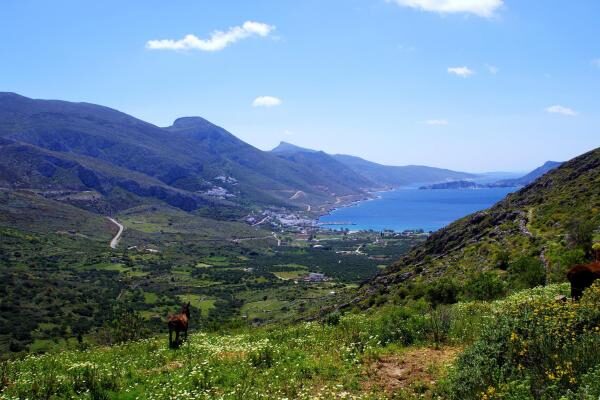 AMORGOS
Amorgos belongs to the group of Lower Cyclades islands. By boat, the island is located two hours south of Naxos and two hours north of Santorin. Ferries from Piraeus serve daily the islands of the Cyclades.
Amorgos has two ports, Katapola and Aegiali. The island owes its fame to the historic Monastery of Chozoviotissa built in 1088. The shooting of the film "The Big Blue" by Luc Besson that highlights the beauty of the place also benefits the expansion of tourism on the island.
Amorgos, moreover, is renowned for its wealth of wild medicinal herbs including sage, fennel, oregano, thyme and capers, and has a medicinal center in the village of Lagada. Its geography offers countless hiking with fascinating beauty of scenery, sea walks with spectacular sunsets and full moon.
The diving center attracts many divers who participate in excursions of all levels. http://amorgos-diving.com/ Amorgos can boast of having the most beautiful beaches of the small Cyclades in particular Aegiali Bay , Agia Anna,Mouros and Kalotaritissa . Many coves are also within walking distance.
Tholaria village is at an altitude of 180 meters and a distance of 2 km to the beach of Aegiali served by a local bus. Car and scooter rental agencies are available at the port of Aegiali www.evdokiasrentacar.gr
Many taverns illuminate the streets of the village and contribute to its festive atmosphere.
Amorgos cultivates a traditional image and maintains its integrity through local residents that perpetuate it .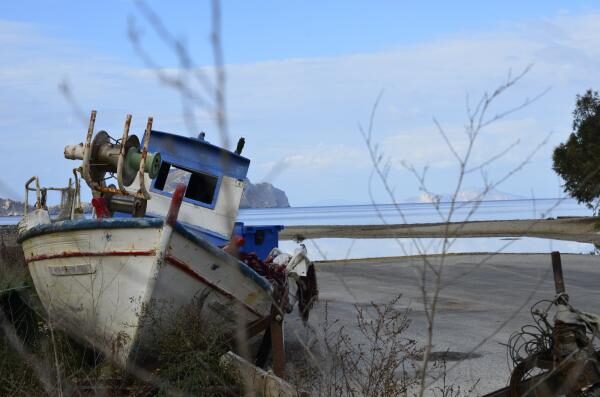 THE LEGEND OF THE MONASTERY OF CHOZOVIOTISSA, as it was told to me.
In the ninth century, during the second iconoclastic period, hundreds of icons were smashed, burned, destroyed in the Holy Land. An old pious woman took the icon of the Virgin with Black Eyes and headed for the sea. She threw the icon in the water, praying that it would be spared. The icon was broken into two halves. One half drifted to the island of Patmos, while the second half was washed ashore under the cliff of Krikelos in Amorgos. At once the people built a small chapel on the spot. A century and a half later, the inhabitants wanted to build a monastery instead of this chapel. They went to work, but despite their best efforts, every night, their works were destroyed until the day a monk noticed hanging in the cliff, the compass and square of the architect. He interpreted this as the order from God and the work resumed at that location. Half of the Monastery is carved into the rock. The Monastery was actually completed at the time of the Emperor Comêne in 1088. It is twinned with the Monastery of Patmos where the other half of the icon drifted to. The monks of both monasteries consulted and gathered the two halves of the icon. It was said that by miracle the two halves welded to become one again.